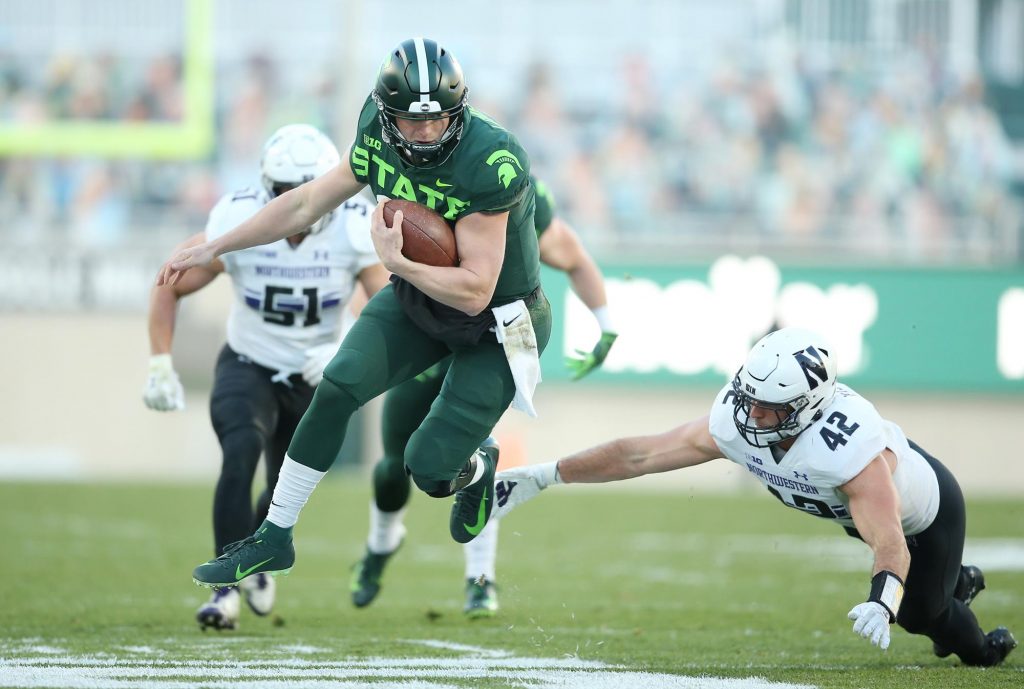 Michigan State QB Rocky Lombardi was 11-of-27 passing for 167 yards and two touchdowns against a good Northwestern defense. (Courtesy Michigan State Athletic Communications)
Post-Game Notes: Northwestern
SERIES
Michigan State defeated No. 8 Northwestern, 29-20, on Saturday in Spartan Stadium . . . MSU has won two in a row over the Wildcats . . . MSU leads the all-time series over NU, 39-20, including a 19-9 record in East Lansing . . . the game was played without any fans in attendance due to the COVID-19 pandemic.
Northwestern entered the game ranked No. 8 in the College Football Playoff rankings; MSU's win over the Wildcats marks its first win over a Top 10 team in the CFP rankings since taking down No. 7 Penn State on Nov. 4, 2017.
Michigan State head coach Mel Tucker is 4-3 against teams ranked in the AP Top 25, including a 2-1 record at MSU . . . four of his seven wins as a head coach in his first two seasons have come against ranked opponents (No. 11 Northwestern and No. 13 Michigan at MSU; No. 25 Nebraska and No. 24 Arizona State at Colorado).
Michigan State has defeated two AP Top 15 teams this season (No. 11 Northwestern, No. 13 Michigan), joining Alabama and Georgia as the only teams in the FBS to beat two AP Top 15 teams this season.
OFFENSE
Michigan State rushed for a season-high 195 yards on 47 carries . . . Connor Heyward led the Spartans on the ground with a season-high 96 yards on a career-high 24 carries.
Rocky Lombardi was 11-of-27 passing for 167 yards and two touchdowns . . . Lombardi completed a 75-yard touchdown pass to Jalen Nailor in the first quarter, marking the longest pass completion of Lombardi's career and also the longest reception of Nailor's career . . . it marked the longest TD pass for the Spartans since 2016 against Northwestern (86 yards; Tyler O'Connor to R.J. Shelton) . . . Lombardi also rushed for a career-high 65 yards on 10 carries, including five for first downs.
Michigan State won the time of possession battle for the first time this season (32:33 to 27:27).
MSU was 10-of-21 on third downs in the game.
Jalen Nailor led all receivers with 99 receiving yards on three catches, including his career-long 75-yard TD in the second quarter . . . Nailor also led all players with
120 all-purpose yards, adding a 21-yard kick return in the first quarter.
MSU is just one of three teams with two wins over Top-15 teams, joining Alabama and Georgia.
DEFENSE
MSU's defense forced a season-high four takeaways Saturday, with two interceptions and two fumble recoveries . . . the four takeaways topped previous high this season of three in season-opener vs. Rutgers (10/24/20), and was the most since five turnovers vs. Michigan on Oct. 7, 2017.
The Spartan defense limited the Wildcats to just 63 yards rushing, a season-low for MSU and first time holding opposition under 100 yards this season, bettering the previous low of 106 in season-opener vs. Rutgers . . . the 63 yards rushing is the Spartans' fewest allowed since 36 yards last season vs. Illinois (11/9/19) . . . Northwestern's 63 yards rushing marked its third-straight game being held under 100 yards.
The Spartans' final fumble recovery came in the endzone on the last play of the game, as Northwestern was trying to lateral on the final play, with redshirt sophomore cornerback Kalon Gervin recovering the fumble in the endzone for the touchdown . . . Gervin recovered his first career fumble recovery with the score on the final play . . . the final fumble recovery for a touchdown marked the second-straight season that MSU had a fumble recovery for a TD on the final play of the game, after also doing so last season vs. Indiana (9/28/19), when Michael Dowell recovered a fumble on a trick play gone awry in the endzone as time expired in the 40-31 victory for MSU.
MSU's defense made two fourth-down stops Saturday, matching the Spartan defense's two fourth-down stops on the season entering the game, as the opposition was 3-of-5 on fourth downs.
Senior linebacker Antjuan Simmons logged a game-high 13 tackles, one shy of his career-best set last game vs. Indiana (11/14/20) . . . the 13 stops is the fourth game this season in double-figures . . . he also had 2.0 tackles for loss and 1.0 sack, as Simmons now has 6.5 TFLs on the season, with a least 0.5 TFL in four of the five games this season . . . Simmons now leads MSU with 53 tackles on the season (22 solo, 31 assists).
Simmons' 13 tackles gives him 209 career tackles, the most of any active Spartan in 2020, and surpassed the 200-career tackle plateau . . . Saturday was his 44th career game, which also is tied for the most among active Spartans, and he has 18 consecutive starts at linebacker . . . Simmons now has 23.5 career tackles for loss and 4.5 sacks, moving up to tie for No. 35 on MSU's career TFL list.
Redshirt-junior cornerback Shakur Brown's two interceptions Saturday give him four picks in the last two games with two oskies vs. Indiana . . . Brown now has a team-leading five interceptions on the season, which now shares the Big Ten lead with Saturday's counterpart, Brandon Joseph of Northwestern . . . the two interceptions also gives Brown nine passes defended (five interceptions, four pass break-ups) in the five games this season, as part of 15 career passes defended (nine pass break-ups, six interceptions) in last 10 games played . . . Brown is now second in the Big Ten with nine passes defended, behind another of Saturday's counterparts, Greg Newsome II, whose two pass break-ups in the game give him 10 passes defended.
Now with seven career interceptions, Brown moves up to tie for No. 28 on MSU's career interception list . . . Brown's 54 interception return yards give him 188 for his career, vaulting all the way up from No. 16 on MSU's career interception return list to No. 8
Redshirt-senior defensive tackle Naquan Jones posted a career-high 2.5 tackles for loss Saturday, topping his previous high of 2.0 vs. Maryland (11/3/18) . . . Jones now has 3.5 TFLs this season and 11.5 for his career . . . with six total tackles Saturday, Jones also matched his career-best of six vs. Maryland (11/3/18).
Redshirt-senior defensive end Drew Beesley logged a career-best 2.0 sacks Saturday, topping his previous high of 1.0 sacks done twice, previously vs. Rutgers (10/24/20) . . . Beesley now has 3.5 sacks this season and 4.5 for his career . . . the 2.0 TFLs give Beesley 4.5 tackles for loss on the season and 10.5 for his career.
Redshirt-junior linebacker Noah Harvey posted eight stops Saturday, his third game this season with eight or more tackles.
Redshirt-sophomore linebacker Chase Kline registered a career-high eight tackles, bettering his previous high for the fourth-straight game, topping his high of six stops last game vs. Indiana.
SPECIAL TEAMS
Redshirt-senior placekicker Matt Coghlin was 3-of-4 on field goals, making from 22, 44 and 48 yards, while missing from 49 yards . . . the three field goals marked his third multi-field goal outing this season, all with three upright splits each time . . . he has made at least one FG of 40+ yards in all three games with a field goal . . . Coghlin is now 7-of-10 on the season.
Coghlin's 48-yarder came with 2:47 left in the game and was his fourth game-winning field goal of his career, joining a 34-yarder as time expired vs. Penn State in 2017, a 21-yarder with 0:05 left vs. Indiana in 2019 and a 33-yarder vs. Maryland with 2:14 remaining in 2019.
Redshirt-senior punter Mitchell Crawford matched his MSU career-high punting outing with four punts, with season highs of 153 yards and a 38.2 yards per punt average . . . Crawford had a long of 44 yards, with one inside the 20.
COURTESY MICHIGAN STATE ATHLETIC COMMUNICATIONS