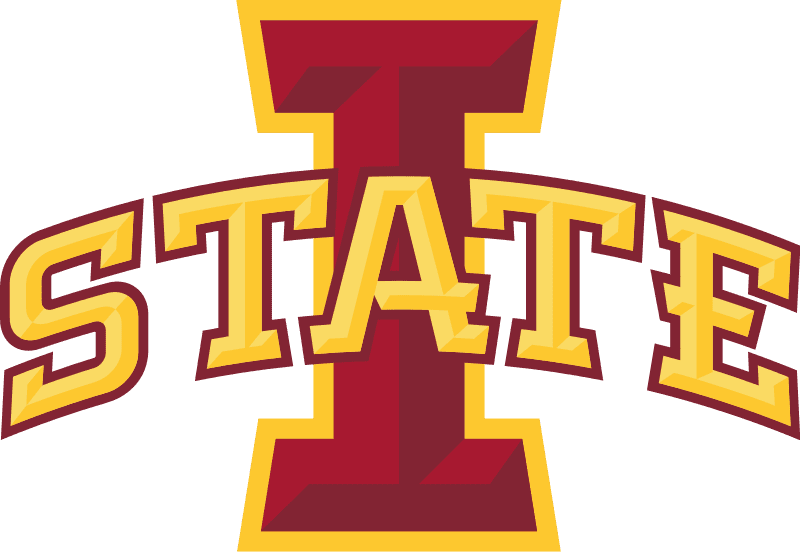 AUSTIN, Texas — Breece Hall scored on a 3-yard run with 1:25 remaining, and No. 15 Iowa State held off last-minute drive by Sam Ehlinger and No. 20 Texas to remain in first place in the Big 12 with a 23-20 victory Friday.
After Iowa State sacked Ehlinger on third down, Texas' Cameron Dicker barely missed left with a 58-yard field goal attempt as time expired.
The Cyclones (7-2, 7-1) have almost locked up a spot in the Big 12 championship game for the first time.
Hall gained 91 yards on 20 carries, his first game under 100 this season, but had 30 on the final 69-yard touchdown drive. Quarterback Brock Purdy connected with tight ends Charlie Kolar and Dylan Soehner for the other 39 yards.
Iowa State trailed 20-16 early in the fourth quarter after bad two-play sequence for Texas (5-3, 4-3) helped the Cyclones get a field goal by Connor Assalley.
Purdy completed 25 of 36 for 312 yards and one touchdown. Kolar made six receptions for 131.
Ehlinger was 17 of 29 for 298 yards and one touchdown in what could be his final home game for the Longhorns. Ehlinger and Brennan Eagles set up touchdowns in the first and third quarters, connecting for 59 and 45 yards.
Hall began the game averaging 146 yards a game, fifth best in the country.
THE TAKEAWAY
Iowa State: The Cyclones have never won a championship in the Big 12 or their previous league, the Big Eight. Iowa State's last conference title came in 1912. The Cyclones have not secured a spot in the Big 12 championship game, but a victory against West Virginia next week or another loss by Oklahoma could seal it.
Texas: The Longhorns have not been eliminated from the Big 12 race, but it's real close with two games to play.
#15 Iowa State at #20 Texas
Nov. 27, 2020 – Austin, Texas (DKR-Texas Memorial Stadium at Campbell-Williams Field)
IOWA STATE POSTGAME NOTES
TEAM NOTES
*ISU is 7-1 in conference play for the first time in school history, and has clinched at least a share of first place in the Big 12.
*The seven conference wins are the most in school history.
*This is ISU's first-ever road win in a matchup featuring two ranked teams (1-10-1).
*In the Matt Campbell era, ISU now has seven wins after trailing at some point during the fourth quarter.
*ISU is 30-18 overall (.625) in the last four seasons, the best four-year winning percentage in the modern era.
*ISU's 30 wins in the last four years match a school record (30 wins from 1903-06).
*ISU is 23-12 in conference play (.657) in the last four seasons, the most conference wins and highest win percentage in a four-year span in school history.
*ISU's 23 league wins in the last four seasons are the second-most in the Big 12 in that span.
*ISU is 7-18 under Matt Campbell when trailing at halftime, and 5-21 when trailing after three quarters.
*ISU is 23-25-2 all-time as a ranked team, including a 10-7 mark under Campbell.
*Campbell is 25-19 in conference games, the second-most league wins by an ISU coach (Dan McCarney, 27).
INDIVIDUAL NOTES
Breece Hall
—-ISU rank in parentheses—-
*Has scored in nine consecutive games (tied for second).
*16 rushing touchdowns this season (fourth).
*17 total touchdowns this season (tied for third).
*25 career rushing touchdowns (10th).
*27 career total touchdowns (tied for ninth).
*1,260 rushing yards this season (tied for seventh).
*2,157 career rushing yards (14th).
Brock Purdy
*11th career 300-yard passing game.
*Second on ISU's career completions chart (634), passing Austen Arnaud (616 from 2007-10).
*Has 21 wins as ISU's signal-caller, tying for the most in school history (Bret Meyer, 2004-07).
Sean Shaw
*Career highs in receptions (five) and receiving yards (60).
*First touchdown of the season.
Charlie Kolar
*Career-high 131 receiving yards.
*Second career 100-yard game.
*Second-most receiving yards by an ISU tight end (Keith Krepfle, 143 yards at San Diego State, 1971).
*Ranks second among ISU tight ends with 92 career receptions.
*Has a catch in 21 consecutive games, tying for the seventh-longest streak in school history.
Dylan Soehner
*Set career highs in receptions (five) and receiving yards (69).
Tarique Milton
*Made a season-high six catches.
Connor Assalley
*Sixth career game with at least three field goals.
*Ranks fifth at ISU with 42 career field goals.
Latrell Bankston
*Tallied 2.0 sacks today; has 3.5 on the season.
*First Cyclone with 2.0 sacks in a game since JaQuan Bailey had 3.5 at TCU earlier this season.
Mike Rose
*Made a career-high 13 tackles, his fifth game this season with 10 or more.
*Made his 35th consecutive start, the most among current Cyclones.
Isheem Young
*Second forced fumble of the season.
Lawrence White
*First career fumble recovery.
O'Rien Vance
*Tied career highs in tackles (nine) and TFL (2.0).
GAME RECAP & NOTES COURTESY IOWA STATE ATHLETIC COMMUNICATIONS