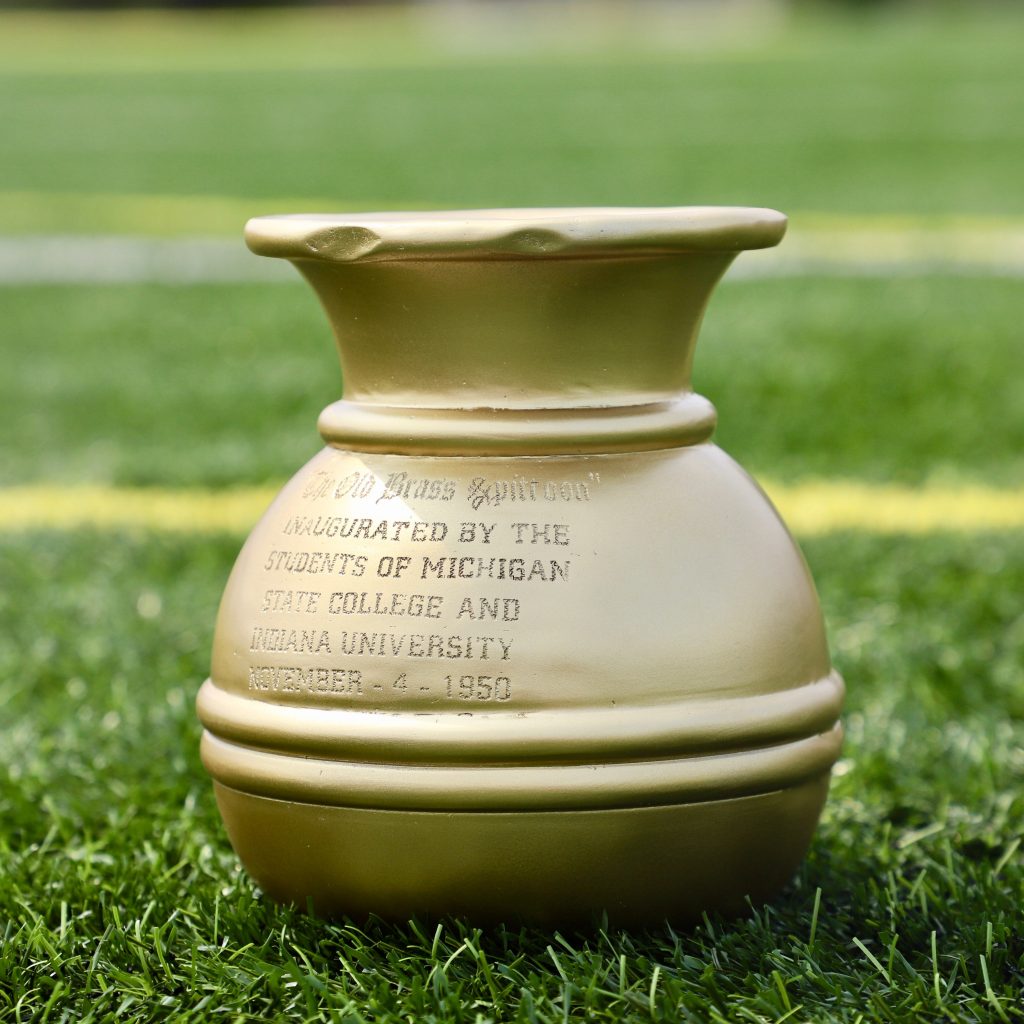 Postgame Notes
Indiana vs. Michigan State
November 14, 2020
 
TEAM
• No. 10/10 Indiana (4-0, 4-0 Big Ten) took down Michigan State (1-3, 1-3 Big Ten), 24-0, at Spartan Stadium in East Lansing, Mich., to claim the Old Brass Spittoon for the first time since 2016. The victory marks the first for the Hoosiers in East Lansing since 2001.
 
• The 24-point victory is the largest margin of victory for Indiana at Michigan State in the history of the rivalry, besting the previous mark of 16 (16-0) set in 1969.
 
• Indiana secures its first victory as a Top-10 team since knocking off Michigan State by a score of 14-13 as the No. 6 team in the country on Nov. 11, 1967.
 
• The 4-0 start to Big Ten Conference play is the best start since 1987 (4-0) and tied for the second-best ever (1967, 5-0). For the first time since the 1993 season, Indiana has won its first two road conference games.
 
• IU is 12-5 since the start of the 2019 season and 9-4 in Big Ten play during that time.
 
• Indiana has won five-straight Big Ten conference games, tied for the longest streak in program history (1967), and 9-of-11 dating back to the 2019 season. This marks the most successful stretch of conference games since a 9-2 conference record from Oct. 3, 1987-Oct. 21, 1988.
 
• Indiana has started 4-0 for the first time under head coach Tom Allen. It is tied for the third-best start in program history. The Hoosiers also started 4-0 or better in: 2015, 1990, 1986, 1985, 1967 (8-0) and 1910 (5-0).
 
• The program has earned victories in each of the last three road games against Big Ten Conference opponents for the first time since the 1982 season. The '82 team was coached by ESPN College GameDay analyst Lee Corso.
 
• For the first time in program history, IU has defeated Penn State, Michigan and Michigan State in the same season. The Hoosiers last downed Michigan and Michigan State in the same campaign in 1967.
 
• Indiana is currently in possession of both of its rivalry trophies, the Old Brass Spittoon and the Old Oaken Bucket (Purdue).
 
OFFENSE
• Redshirt sophomore quarterback Michael Penix Jr. completed 25-of-38 passes for 320 yards, two touchdowns and two interceptions. He has completed 20-plus passes in consecutive games for the first time this season and the second time in his career (Sept. 28 and Oct. 12, 2019).
 
• Penix now owns three 300-yard passing games and has tallied consecutive 300-yard passing games for the first time in his career and for the first time since Nate Sudfeld closed out his career with three-straight 300-yard games in 2015.
 
• The Tampa, Fla., native has racked up 58 completions on 80 attempts for 606 yards and two touchdowns in a pair of starts against Michigan State at Spartan Stadium.
 
• The game marked the 10th-career start in the Cream & Crimson for Penix. He holds a record of 9-1 as a starter.
 
• Senior wide receiver Ty Fryfogle turned in his second-straight career game, recording personal-bests in receptions (11), yards (200) and touchdowns (2), his ninth and 10th-career scoring grabs. The 6-2, 214-pounder has caught at least one touchdown in three-straight contests.
 
• Fryfogle's 178 first-half receiving yards marked the most by a Big Ten player since 2010 when Roy Roundtree (Michigan) registered four catches for 192 yards and two touchdowns in the first half against Illinois.
 
• His 65-yard touchdown grab in the second quarter marked a career-long catch and the longest TD grab by a Hoosier since current Tennessee Titan Nick Westbrook hauled in a 75-yarder against Ball State to open the 2019 season.
 
• Fryfogle has now logged consecutive 100-yard receiving games for the first time in his career and is the first Hoosier to do so since Whop Philyor on Sept. 28 and Oct. 12, 2019. The Lucedale, Miss., native has recorded three-career 100-yard receiving games, all against Big Ten opponents.
 
• He is the seventh receiver in program history to snag 200-plus yards receiving in a single game and the first since Ricky Jones posted 208 yards against Wake Forest on Sept. 24, 2106.
 
• Junior running back Stevie Scott III tallied 23 carries for 84 yards and a score, his 25th career rushing touchdown. He has scored at least one touchdown in 15 of his last 20 games played.
 
• He ranks eighth in program history in career carries (494), eighth in career total touchdowns (27), and just outside of the Top 10 in career rushing yards (2,301).
 
• Redshirt junior wide receiver Miles Marshall matched a career-high with four catches (3 times) on four targets for 47 yards, the second-best yardage total of his career.
 
• Senior wide receiver Whop Philyor became the sixth pass-catcher in program history to secure 150 career catches, the first since Shane Wynn in 2014, with his third catch in the first half. He finished the game with three catches for 35 yards.
 
• Redshirt junior tight end Peyton Hendershot brought down two catches for 11 yards to become the fourth tight end in program history to reach 80 career catches (81). His 81 career catches are tied with Dave Lilja for the third-most in program history by a tight end.
 
• Freshman running back Tim Baldwin Jr. saw the first action of his collegiate career, becoming the fifth true freshman to play for Indiana in 2020, joining tight end AJ Barner, safety Bryson Bonds, kicker Chris Freeman and wide receiver Javon Swinton. He totaled three carries for 18 yards.
 
• Junior offensive lineman Luke Haggard made his first career start at Indiana at left tackle.
 
DEFENSE
• The Hoosiers added four more takeaways in the game and now have recorded a takeaway in 33 of the last 35 games. IU has created 12 takeaways through four games in the 2020 season and have scored 51 points off of the turnovers.
 
• The defense has reeled off six-straight games with a least two takeaways dating back to the end of the 2019 regular season.  
 
• Indiana has 10 total INTs in 2020 and have picked off at least two passes in five-straight games. The Hoosiers have also charted at least one interception in seven-consecutive contests.
 
• The four takeaways compiled by the Hoosier defense marks the most since securing three fumble recoveries and one interception in a 34-32 victory over Maryland on Nov. 10, 2018.
 
• Michigan State did not cross the Indiana 35-yard line, with its best field position coming at the IU 38. The Hoosiers held the Spartans to just 191 yards (60 rushing, 131 passing).
 
• Sophomore cornerback Tiawan Mullen recorded a pair of interceptions, the first two of his short career and the first multi-takeaway game of his career. The Fort Lauderdale, Fla., native is the first Hoosier since Jonathan Crawford (Nov. 26, 2016) to record a pair of INTs in a game.
 
• Junior linebacker Micah McFadden racked up a team-best nine tackles (5 solos), a career-high three TFLs, and a career-best two sacks. He now owns three multi-TFL games in his career.
 
• Fifth-year defensive lineman Jerome Johnson recorded four tackles (3 solos), a career-best-tying 2.5 TFLs, and a career-best 2.0 sacks, his third-career game with multiple sacks, in his 25th career start. He now owns 11.5 career sacks, the highest total of any active Hoosier.
 
• Junior cornerback Reese Taylor stuffed the box score with two solo tackles, one TFL, one PBU, one forced fumble and his second career interception. The Ben Davis product returned it 53 yards, a career long.  He also returned one punt for 18 yards.
 
• Redshirt sophomore linebacker James Miller tallied a season-best six tackles with three solo stops, while junior defensive back Jamar Johnson added four tackles (3 solos).
 
• Junior defensive lineman James Head Jr. registered two tackles (1 solo), a half-TFL and his first career fumble recovery.
 
• Redshirt junior linebacker Thomas Allen contributed two solo tackles and his first career forced fumble.
 
• Junior safety Devon Matthews charted two tackles (1 solo) and one PBU in his 10th career start.
 
• Junior defensive lineman Demarcus Elliott tallied two tackles (1 solo) in his 15th career start.
 
SPECIAL TEAMS
• Redshirt sophomore kicker Charles Campbell hit a 21-yard field goal and all three of his PAT tries for a total of six points. He later missed a 41-yard field goal, his first miss in 10 career attempts. Campbell has converted 7-of-8 field goal attempts this season and is 14-of-14 on extra points in 2020.
 
• Graduate student punter Haydon Whitehead punted three times for 119 yards in the game for an average of 39.7 yards. He charted a long kick of 42 yards and knocked one punt inside the 20-yard line.
 
• Sophomore long snapper Sean Wracher has snapped in all 17 career games played at Indiana.
Indiana vs. Michigan State
Nov. 14, 2020
Postgame Quotes
 
Indiana Head Coach Tom Allen
Opening Statement
"I am just really proud of our team. Coming on the road with a lot of distractions this week, a lot of things that you have to deal with and learn how to stay locked in and focused in this environment that we are in, and with the success we are starting to have and everything. I am just really proud of our guys to come here, it has been a tough place for us to win over the years, and to get a shutout here is pretty special. That does not happen very often and to get our fifth Big Ten win in a row, fourth of the season, it is a pretty awesome thing. I am proud of our staff. I still thought it was ugly. I thought we were sloppy and did not execute well enough, especially on offense and had some special teams' mistakes, missed a field goal for the first time this year. Defense held them to 200 yards and four takeaways, which continued to be gamechangers for us, three more picks. I am just really proud of our guys. I mean that is just how you win football games and you got to go on the road and win some ugly ones sometimes. Especially how the game started, I thought we kind of put ourselves in a tough spot, but our guys bounced back, they got a 14-point lead and then never looked back, so I am proud of this team. Big road win. Go Hoosiers."
 
Q. On what the win means…
"We came up with goals and one of the major things the guys wanted was win our trophy games and so that is what we did, we won our first trophy game. We have not beaten them since I have been the head coach here and you know the history, we have not beaten them very often, recently. First time winning here in East Lansing in 19 years, so continuing a whole long list of things they gave me of firsts, or tied this, or tied that, or firsts time since this, you know just continuing to make history here and it is a big win. It is a big win on the road and such a devastating loss a year ago coming here, but I will tell you what, I think that was a real defining moment in our program. The way the players responded, the way I challenged them the rest of that game and kind of where we have gone since then has been pretty amazing. A lot of respect to Coach Mel Tucker and their team. Their kids fought hard, they are big physical players and I talked to several of them after the game, a lot of respect for how hard they play and how tough they hard and I love being able to compete and fight, claw, and scratch, and then shake a guy's hand and give respect and the respect is given back. That is pretty cool. It was a good day."
 
Q. On what changed since playing MSU last year…
"I think it is significant, that was a tough loss. Here is the thing that I think really sticks out to me about that, I was trying to convince them that we were a really good team because I thought we were, even though we fell short, we did not finish and I knew were we getting frustrated and did not win, we were close again. That is just what prompted me to respond the way I did in the locker room after the game and in the press conference because I knew that team in that locker room was a really good football team, but we had not proved it on the field, so it did not really matter what it think. The players responded and it was really the beginning of the Maryland game that I have always pointed too to say that was the game when we physically finished and won on the road and then starting winning after that, but it was this loss in East Lansing, I thought a year ago, that really was the catalyst to help this team realize if we can just stay the course and just keep believing, and keep fighting, and keep demonstrating tremendous grit, and relentless mindset that we are going to figure this out and it is going to come together. I talked to one of our players afterwards, and he has been here a long time, and that was kind of his response, he was impressed with what you guys have done here in the last several years. He was very complimentary of how our kids play and where we have taken this program. It is something that you have to know what it is about, proving it on the field, and so a year ago this time, a lot was left out there. Now you feel a whole lot different about where we are and where we headed."
 
Q. On Ty Fryfogle's impact…
"They are big plays in the game, for sure, but they are. He is a big, strong guy. We got a lot of good size receivers that can to be able to go up and use their mass and use their catch radius to make plays and he is a tough kid. He loves football, he loves to work, never says much, I mean he does not talk hardly at all but he just makes plays and like you said tough, contested catches, tough runs, just grit, toughness, fight and that is our program. To me that is an awesome thing and the team is full of guys like him and it is neat to see a kid come from South Mississippi believe in us, come all the way up here and be rewarded with great opportunities and now being a part of a football team that is doing special things, that are historic. That is a message to a whole bunch of other guys that are in the country and want to come be a part of what we are building in Indiana, whatever state you ae from, we do not care, I just want guys to who want to be here and I want guys that believe in us and want to work, want to commit, be disciplined, and buy into the L.E.O. culture, and he is one of them."
 
Q. On concerns on the offensive line coming in…
"First of all, Caleb Jones was not active today, so that is all I am going to say about that. Bottom line is that I thought Luke Haggard did a great job and it is a concern. Mike Katic is still out and so next man up, and Luke came here to play, came here to compete and have opportunities, and now he has got one, so bottom line is that that's how we have to approach this every single time we take the field, whatever position it is, the guys got to realize that if the guy in front of you goes down and cannot play then now it is your time so what are you going to do with that opportunity."
 
Indiana Player Quotes
Michael Penix Jr., Quarterback
Q. On winning the Old Brass Spittoon…
"We held it. It was actually in our locker room. But it was amazing, we played great on the defensive side and on the offensive side I feel like we left a lot of points on the board. But it was still a team win and we are happy that we got it."
 
Q. On Ty Fryfogle's big game…
"Ty works extremely hard in practice and that is something that he does every day. It is nothing really new to us. But he comes out and competes all the time, he can see the ball every time it is in the air, and on the deep ball he just made an athletic catch and stayed in bounds, and he took it all the way. He is a great player and great players and make plays."
 
Q. On Miles Marshall and working the sideline routes…
"That was just all part of the game plan. We saw what they were giving up, so as a team we just took advantage of it. We got out there and they were showing us the same looks, and Coach Nick Sheridan made the right call at the right time. I was able to get the ball out to the receivers and they were able to make plays. That is what it is all about. Just making sure we stay locked in, just make sure we prepare the right way so when we come out here on the game field we actually execute at a high level, and that is what we did today."
 
Ty Fryfogle, Wide Receiver
Q: On connection with Penix…
"Like I was saying last week, it started in practice and it carried over. We had a great week of practice and it carried over to the game. The coaches made great calls for us. We just executed what they called."
 
Q: On sending a message nationally…
"It does not matter what everyone says about us. We are going to keep doing us and executing each and every week. That is what is exciting about this team. We are getting better each and every week. Look at the defense. They had a shutout today. Offense, we played well but we could have done better. We are going to continue to work on it next week."
 
Q: On the drop right before the score…
"I was really upset because I actually had the ball in my hands. Last year, I caught a ball in that same spot and stepped out for the touchdown. That fueled me up for the next play. I am glad that I had the opportunity on the next play to compete for the touchdown."
 
Micah McFadden, Linebacker
Q: On the defensive statement made…
"It was huge. We definitely did well throughout the entire game. We had a few plays that broke big on us, and we need to clean that up holistically. I think we did a good job at getting them down when we need to and making big stops."
 
Q: On dominating up front…
"It is a huge deal. Coach Kevin People does a great job getting the defensive line right, making sure the guys are in their gap and holding the line. Also, making sure we do not get any knock back upfronts. It is huge that we are getting that each week. It shows on the film. Our linebackers can run through the holes and make plays in the backfield."
 
Q: On winning the Old Brass Spittoon…
"It is amazing. I think we definitely expected this. We talked about it all week just dominating this team and putting it on film. And making plays both on offense and defense. I think the defense did a great job creating takeaways and making opportunities for offense to score. We just have to keep doing it."
 
Tiawan Mullen, Cornerback
Q: On his two interceptions…
"I saw the ball and attacked it. To keep it simple, I saw the ball and attacked it. I was in the right position, had the right technique, and had one the best cornerback coaches in the game, Brandon Shelby. I listened to him and he puts you in the right position to where all you have to do is go out there and execute. That is what I did today."
 
Q: On playing zone vs. playing man…
"Like Micah McFadden said before, the coaches let us go out and play freely. We play with vision and when they let us do that we have to go out, improvise, make plays and that is what we did."
 
Q: On playing with a chip on their shoulder against Michigan State…
"Last year we left a lot on the field. We gave up plays that we should not have but this year as a unit we came together and the numbers were 11 strong out there. Once everybody was together, headed in the right direction, nothing could break us. We improvised, played as a unit and the numbers were strong to come out with the win."
 
COURTESY INDIANA ATHLETIC COMMUNICATIONS